Nursing Care: The Essential Guide (2018)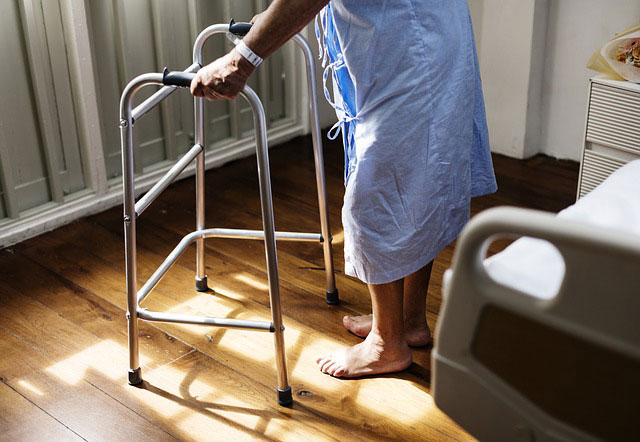 Nursing care is one of various health and social care services and is individually tailored to each client.
If you have slightly more complex needs which require extra attention, this care service might be a suitable option.
While all care workers are trained to assist with activities of daily living and provide care home services, sometimes extra support is required.
So how do you know if you need specialist nursing care?
Nursing Care
Well, the main gauge is how great your medical needs are, including how independently mobile you are.
If you require two people to help with transfers, such as from bed to chair or chair to the toilet, it may be an indication that nursing care would be beneficial.
If you just require assistance with activities of daily living, such as meal preparation or washing and dressing, then home care or residential care may be more appropriate.
If you do have additional medical needs, however, you may benefit from the extra professional input. How complex your requirements are may determine whether you're able to receive your nursing care at home (home care), or in a specialist facility such as a nursing home (care home with nursing).
If your situation lends itself to staying in familiar surroundings with loved ones, home care agencies can provide nursing care services directly to you. This could involve visiting care nurses who supplement your work as a carer, all the way up to live-in care, where a specialist is on hand at all times.
If a long-term health condition or chronic illness has progressed beyond the point that home care provide safe and effective treatment or you're unable to cope, entering a care home with appropriate facilities and trained on-site staff may be necessary.
While there is a wide choice of conventional residential care homes to choose from, nursing care requires a special license, and the nursing home that's most suitable will depend on your condition.
For example, some care homes with nursing may provide assistance to those at the end of life requiring palliative care. Others may include special dementia care facilities, which provide extra support, including secure units and staff trained in memory care.
Nursing homes generally provide everything that a residential home offers, in addition to its medical services. This may allow a couple with varying care requirements to stay together in the same home.
The added benefit of nursing homes is that they can prevent admission to hospital. With well-trained staff and the best equipment on hand, nursing homes can cover many medical needs. In a care home with nursing, qualified staff are on hand to provide 24-hour cover should any medical situations arise.
The first thing to do when seeking Individual nursing care plan is to talk through your daily needs with a qualified professional. Management of long-term, medical conditions will vary hugely depending on how each individual is affected and any care plan will have to be modified accordingly.
Nursing Services
Some of the services that nursing care offers include:
Tracheostomy care
Catheter care
Stoma care
Continence care
Ventilator care
PEG/gastrostomy care
Pressure sore management

Complex dressing application

Medication Administration
Specialist care services may cover conditions such as stroke and can extend to chronic, progressive neurological conditions that necessitate greater intervention in the future such as Parkinson's Disease, Multiple Sclerosis and Motor Neurone Disease. People that have suffered accidents and resultant brain injuries are also cared for.
Regular clinic assessments will be provided by a qualified nurse to ensure that the level of ongoing input is appropriate for the client. With any deterioration in functional ability do a health condition, nurses can increase the level of care delivered.
If an individual's mobility worsens over time, for example, it may be necessary to use nursing equipment like profile beds or hoists to ensure the client can be repositioned safely.
Also, medication management is an important facet of nursing care and should be administered by trained staff. Care homes with nursing also allow for on-site nurses to tend to patients who may require complex dressings, whereas, in a normal residential care home, these clients are dependant on NHS district nurses.
The added of benefit of care homes with nursing is that the nurses in attendance can monitor their clients more closely and identify any changes in medical conditions or symptoms, before liaising with the appropriate professionals if further care is needed.
Longer term nursing care can be provided for complex cases which are ongoing, while short-term care might be more appropriate for those clients who require postoperative care and may progress to a level where their needs decrease and residential care is preferred.

How to Find a Care Home with Nursing
If you'd like to locate a care home with nursing near you, click here to visit the NHS website and enter your postcode.
How Much Does Nursing Care Cost?
The cost of any health and social care services can be confusing and dependant on many factors, not least where you live. Ultimately, it comes down to your condition and how that condition is assessed.
NHS Continuing Healthcare
The first thing to do is to get an assessment to see if your nursing care costs will be covered entirely by the NHS.
There are certain eligibility requirements to meet and this funding is usually only awarded for the most complex and unpredictable medical care needs, or as the NHS state, a 'Primary Health Need'.
It can be provided both in your home or a registered care home. If you require an assessment, speak to your GP.
NHS Funded Nursing Care (Registered Nursing Care Contribution)
If you're not eligible for NHS Continuing Care, you might still be eligible for some financial support if:
You've been assessed as requiring qualified nursing care
You live in a care home licensed to provide nursing care
This is a tax-free, non-means tested benefit of £155.05 per week or £213.32 per week for those that were on the higher rate in 2007.
The NHS funded nursing care contribution is paid by the NHS straight to the care home, or if they're council funded, the council will reduce how much it pays the care home.
Often an individual won't require a separate assessment for this contribution. However, if you do require one, speak to your GP or contact your local Clinical Commissioning Group.
Author: Joel Key
Help care workers change lives by becoming a supporter of The Care Workers Charity today. If you're a caregiver, check if you qualify for support here.