Mental Wellbeing and Health Support
Having trouble sleeping? Feeling tired all the time? Worried about things? Feeling that you can't cope? Generally feeling miserable or upset?  Eating / drinking more or less than usual?
If any of these (or other similar issues) apply to you, you may benefit from support sessions from a qualified therapist who can help you with issues such as depression, anxiety, stress, addiction or PTSD. We offer applicants a series of up to ten support sessions with a qualified therapist. Please note that this is not a financial grant, The Care Workers' Charity will pay the service provider (Red Umbrella) directly for your sessions.
If you feel you would benefit from some support, or if you're on a long waiting list for support to deal with issues such as these,  or have previously had support but feel you would benefit from some more sessions, please visit our Mental Wellbeing and Health Support Page for more information and to see whether you meet your eligibility requirements.
CRITERIA
You need to be currently employed in the care sector.
EVIDENCE
1. Employment evidence, such as your most recent wage slip, OR permission to contact your HR Manager for confirmation that you are employed in the care sector. Please also be reassured: if you choose to ask us to contact your HR Manager, it will only be in order to verify that you are employed in the care sector.
The letter we will be sending to your HR manager would be as follows: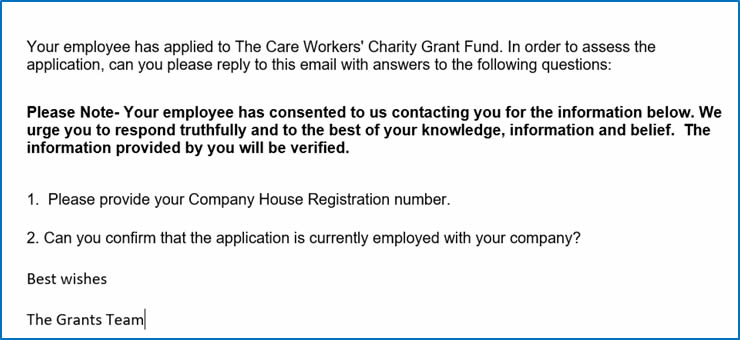 2. A letter of support from your GP, mental health support service or regulated professional (such as a social worker, or CPN or similar; they will need to confirm that you would benefit from support with your mental health and that this programme would be beneficial to you.
In order for you not to incur costs in having a letter from your GP:  if you have an online log-in to your health provider (for example, if you are requesting repeat medication via an online portal) a screen shot or photo of a recent note from your GP confirming your need for mental health support and endorsing your application to our programme, would be fine.
3. Self Referral. If you are not able to provide a letter of support, we will also consider your application through self-referral. We require you to provide a brief description of the area you need help with (for example: PTSD, anxiety, depression or something else) and how the sessions will benefit you.