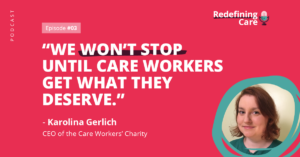 I was delighted to take part in Access Group's Health, Support and Care podcast series – 'Redefining Care', which covers topics ranging from the use of technology, to tackling crippling workforce challenges, to looking at how other countries are managing the growing burden of care, providing listeners with ideas that will be the catalyst for much needed change.
Anisa Byrne was a wonderful host and took me through the discussions from where my social care journey began as a home care worker to where I am now trying to support as many care workers as possible through my work as CEO of The Care Workers' Charity.
Overcoming Challenges
Throughout this long journey I have worked to campaign for care workers and raise awareness of how important they are to society and how social care is often an afterthought. When asked what I felt were the three biggest challenges facing care workers today, it feels like the obvious answer to say 'funding', but the word funding means so much.
Firstly, we cannot expect care workers to provide excellent care on minimum wage. With an empty stomach and worries about how they will survive financially, care workers continue to do the best they can for those they care for. However, funding also refers to training – the skills framework, or lack of it, means that carers are taking on more responsibilities without adequate funding for training.
There is no universal access to the training required and requested, which is lengthy and repetitive. There is also a lack of trust between organisations, which means a lack of trust in care workers and leads to repetition of training. They can be up to date with training in one company and still have to complete a full training programme in another as there is no standard recognised training.
There's an urgent need to raise awareness about carers' roles, skills, and their unique importance in society. Many carers feel unheard and undervalued, with care workers often not recognised as registered professionals. Despite their critical role in building relationships and understanding people over time, the current system doesn't treat them as equals to other professionals. This lack of recognition leaves carers without a clear sense of identity. As a former care worker, I empathise with and stand by care workers, recognising the challenges they face, including financial struggles.
How the government can help support care workers
Care workers need a support system, which a professional body could provide. There is almost a desperation to get more people into care work. However, the low pay and perception of care work deter potential recruits. Increased national government funding for care could alleviate these issues by providing more resources to local authorities for better compensation.
The government must recognise this need for a professional body, especially considering that all other UK countries already have one. We are in a wonderful position where we can leverage their experience and lessons to establish our own. The perceived scale and cost have deterred support, highlighting a need for better understanding of its importance.
Not everyone can do the work of a carer, it takes a special kind of individual with unique values. We need to listen to those who do the job to best support them, which will benefit not only the care worker but also those they care for. At The Care Workers' Charity. We actively advocate for their rights and will persist until they receive fair treatment.
Anisa highlighted the daily sacrifices of care workers, such as unpaid travel time and inadequate reimbursement for fuel costs. Some travel up to 70 miles daily but are only paid 40p per mile with no compensation for their time, which is unacceptable.
Many carers feel that some visits are too short to do a good enough job. Not only does this have a negative impact on those receiving care, but carers themselves may feel that they are only doing the bare minimum and that they are being rushed. This causes stress and heartache because it goes against the nature of a good carer not to do more. This stems from the overriding issue – there are not enough carers.
Skills must be recognised
The scarcity of carers can be attributed to inadequate pay and a lack of societal respect for the profession. Care workers possess an array of skills, including essential "soft skills" like patience, compassion, and kindness, which are unfortunately undervalued. These qualities are intrinsic to individuals and can't be easily taught or learned unless ingrained during upbringing.
Care workers also have many recognised skills which, unfortunately, are not recognised in their case. These include clinical skills, for which the government is now placing many responsibilities and expectations on care workers. Overall, care workers have amazing organisational skills, general medical skills and perhaps most importantly, relationship building skills.
Social care relies on relationships and person-centred care. Care workers often grieve when their clients pass away, but their work commitments often prevent them from attending funerals, leaving them without support. The pandemic increased care worker exposure to death and led to mental health challenges, including burnout.
How digital tools can help complement care
At CWC, we work with Red Umbrella who are experts in mental health training. Care workers can self-refer for 10 therapy sessions, extendable to 20 if necessary. Despite lingering stigma, discussing mental health is crucial. The pandemic's effects endure, and we must allow time for processing our experiences.
For carers we cannot support, we signpost to other services and allow carers to self-refer for support. We also empower providers to train their teams in mental health first aid, helping them recognise early signs of distress. Mental health requires proactive acknowledgement, and we're here to aid carers in their readiness to seek help.
So, what would I want for care workers? I advocate for equal understanding and respect, so their opinions carry the same weight as other professionals. They have unique insights into the individuals they care for and should be heard.
Regarding digital technology in care, it's crucial but should complement, not replace, carers. Technology can free up time for other roles like cleaning and administration, allowing those with caring values to support or transition into care work if technology enhances their roles. For example, digital recording is great if it is developed WITH carers who find it useful rather than an extra burden. There are many great providers of this on the market.
It is a reminder of the professionalism of care workers and the difference they make to people's lives. If you are fundraising, please consider the Care Workers Charity as every £500 is a grant for a care worker. With the cost-of-living crisis, more and more people need support, but this also means that fundraising is harder than ever. We need to support those who spend their lives supporting others.
Thank you to Access for inviting me to be on your podcast. Your support is very much appreciated. If you'd like to listen to Karolina's episode on our podcast, you can listen to the full conversation on the following platforms:
Apple here.
Spotify here
and Google here
Karolina
Karolina Gerlich, CEO, The Care Workers' Charity