Felgains Raises Money for CWC in Raizer Ride Challenge
Over the course of this year, Felgains watched in growing wonder at the great and selfless work of the people we serve. Throughout the pandemic, care workers have continued to go about their work despite the increased dangers they face.
Back in May, Felgains decided to show their gratitude in a unique way, with a thank you message on the roofs of their van fleet. Whilst this demonstrated their thanks to the social care sector, it didn't do something tangible to help those on the front line.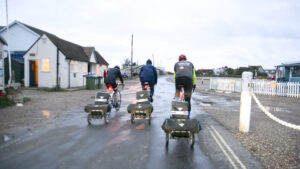 They put on their thinking caps and hit upon a great idea: a sponsored bike ride – but with a difference. They would be towing the Raizer II Emergency Lifting Chair on its trolley along with them. Soon enough, a 50.7 mile bike ride was planned, from Southwold Pier, to the birthplace of Felgains Gainsborough Road in Felixstowe.
On, Satursday 3rd October, they set off for the start line, anticipation building, and the lovely British weather was doing it's best to encourage them – not.
They had fortified themselves with a stiff sea breeze, the Raizer Ride Challenge began. They set off through Southwold, heading for the River Blythe; after a few technical adjustments they boarded the ferry and made the short trip to Walberswick. Some feat getting 3 bikes, 3 Raizer Trolleys and 2 cyclists on a small ferryboat!
Once on solid ground, they settled into the main portion of their ride. Luckily the drizzle stopped and the weather started to liftas they cruised through the picturesque Suffolk villages, battling hills, swooping down descents, and dodging sizeable puddles. Dunwich, Westleton and Theb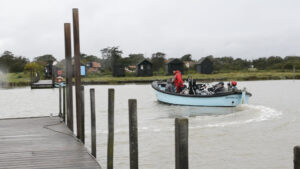 erton were all savoured as they passed through.
As they rode along the exposed Thorpeness, they battled severe crosswinds, before having a well-earned breather in Aldeburgh. They continued though Iken, Chillesford, Butley, Hollesley and Alderton as they headed for the mouth of the River Deben.
Having avoided punctures, accidents and any general disaster up to this point, they arrived at Bawdsey Quay to find the ferry not running! After some frantic phone calls and a detour in the support van, they resumed for the last stretch: a short sprint from Felixstowe Ferry to 36 Gainsborough road, victoriously reaching the final destination in the gloaming.
A lift with the Raizer II Chair, was a fitting finale – a reminder of the progress made by Felgains in the 43 years since Felgains was founded in a small shop in Felixstowe in 1977.
We'd like to take this opportunity to thank the Care Workers Charity for the great work they do to support care workers on the front line. Watch their challenge video here.
Please click here to find out more about the Care Workers Charity
Please click here to find out more about Felgains