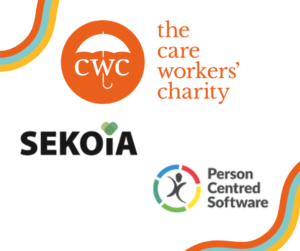 The Care Worker's Charity are delighted to have two new Sponsors in Sekoia and Person-Centred Software (PCS)  
Sekoia see themselves as Q to the 007s. They provide the bulletproof toolkit but say that they are not the real heroes. They provide a digital care management system to make work in care easier, simpler, and more efficient. 
Morten Mathieson CMO of Sekoia said "Looking across social care and how the sector's invaluable professionals are often being neglected, The Care Workers Charity is playing a far more important role than anyone could ever imagine. As a voice and a shelter. We're incredibly proud of supporting the charity's cumbersome work and funding"  
Person Centred Software (PCS) was started in 2013 with the objective of helping to improve the quality of life for people in social care. With an ageing population and large-scale recruitment challenges, this is one of the burning issues of our time and improvement cannot happen quickly enough. 
With over 20 years' experience developing technology for the care sector, we know passion creates the best opportunity for real change – and the founders continue to stay at the helm of the business to help drive digital development in the sector. 
Yaz Hassoun, Head of International Marketing at Person Centred Software said "We are proud to support The Care Workers Charity in their work; the charity provides amazing support for people in the care sector who face financial difficulties. Carers contribute so much to our society – it's important to recognise their incredible work and support them during these difficult times. Supplying the care sector with solutions that improve residents' care outcomes and allow care providers more time to care, Person Centred Software has been transforming social care with its digital technology since 2013. The organisation is very compassionate and cares deeply about people, improving the lives of those working in and receiving care"
We are proud to have supported care workers with our grants and mental health support throughout the pandemic and beyond with the help from our sponsors such as Sekoia and Person Centred Software.  
Karolina Gerlich, CEO of The Care Workers' Charity said "It's wonderful to have both Sekoia and PCS on board as a supporter and is a great example of a company who are giving back to the sector their customers belong to. Supporting front line care workers has a beneficial ripple effect on the entire sector, ensuring that providers have the skills and experience they need to provide high quality care and reduce pressure on the NHS" 
To continue our essential support of care workers we need to continue to rely on the support of our supporter members, sponsors, and fundraisers.  
If you would like more information about supporting us, please contact us on info@thecwc.org.uk or check our website at www.thecareworkerscharity.org.uk or donate here: https://www.justgiving.com/campaign/careworkerscharity