Sky's the Limit
We are delighted to share an inspiring story submitted to our writing competition by Sue Ann Balcombe. Sue Ann is the General Manager at the Priscilla Wakefield House care home. Thank you for sharing your incredible journey with us, Sue Ann!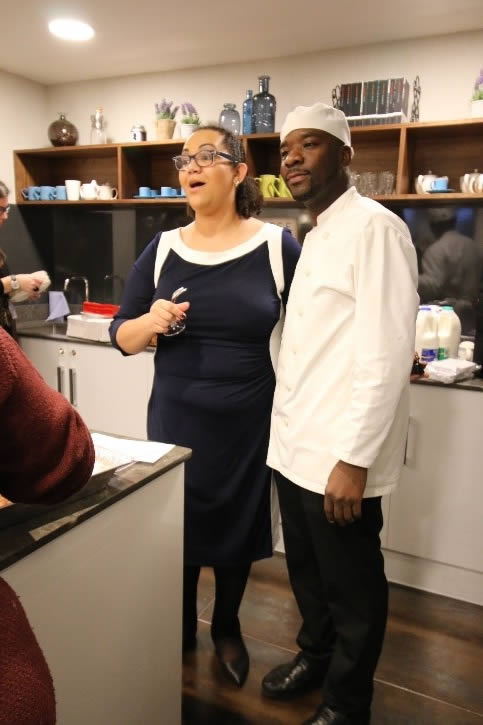 I was born in a British Virgin island called Tortola in 1979. I was only born here due to the volcano that erupted on the small Caribbean island of St.Vincent & the Grenadines – my family had to flee the country hence my mother giving birth to me in Tortola. I migrated to St.Vincent at 2 weeks old where I spent most of my childhood years until the 2nd year in secondary school, migrating to the USA to complete high school and college.
I later moved to Canada to pursue a degree in Human Resources Management in Halifax, Nova Scotia. On finishing my 1st degree in Human Resources Management at age 21, I didn't know whether to return to the USA or migrate to UK (a country I have never traveled to and where I had no immediate family). My mother said it may be best that I went to the UK as I was a British citizen by birth and may get a career boost there.  I always listened to my mother (especially as she was always right)!
I moved to the UK in 2003.  Finding a job in HR proved very difficult. Not only was my degree Canadian but I had no experience in the sector and no one wanted an HR person without experience or without a UK qualification as the law in Canada is very different to the law in the UK.  I was lost, feeling frustrated and thinking where and to whom do I turn. I remembered as a child growing up in the Caribbean, we would take our Sundays after attending church to go to the elderly and disabled facility called the "poor home" and give the residents food and sing to them and make their hair and nails look good. I totally loved this as a child, so I decided to see what avenues within Health Care I could pursue as I was told "Caring is an easy job to get".
So, there I went and started applying for jobs. I saw an advert for a "Team Leader" role in a care home in Wandsworth (South West London) so I thought that sounded great, I would be working in a care environment but not directly involved with the care, so I thought my job role was more administrative.  Oh boy did I get a shock!  I showed up to my first day (after passing the interview and being given the job which was exciting). I came to work on the first day in a pin-striped suit.  I remember my induction was completed by another Team Leader who was casually dressed in t-shirt and jogging bottoms.  She quickly gave me a wake up call saying to me "I think you may find that your attire is not for this type of work".  With no hesitation she took me to do my "first personal care". Well I kid you not, I was horrified not only was I cleaning faecal incontinence, I was bathing and dressing a male resident and it felt really uncomfortable. However, all I kept thinking was this is my first job and I must excel at it. I must do my best.  I am not going to let negative thoughts overpower me. After completing 6 residents personal care, I then was shown how allocations worked, how the rota worked, how the breakfast and lunches were done. I must say my 1st day's induction (although dressed up in my pin-striped suit) was a success!  I didn't quit, I went back the following day. Within 2 weeks I was a PRO.
There was no registered manager at this home as he had been seconded to work elsewhere so we had a sister homes' manager who would pop in twice a week to check on how we were doing. She recognised that the home was being run smoothly in the absence of the manager and saw that my IT skills were good, I was taking charge of the paperwork side and keeping the home compliant. She spoke with the regional director who requested that I attend an interview for Acting Manager Role. I was excited to say the least, and was overjoyed that I got the job. I was promoted to Acting Manager within the first 3 months of starting there as a Team Leader. I was so proud of my accomplishment. I was also determined that the 16 residents in my care were going to have the BEST LIFE! NO LIMITS!
I made sure they accessed the local amenities daily, that despite health and safety nothing would stop them doing what they wanted. I had a lady who wanted to go to the mall just to sit at the flower shop and watch them make floral arrangements (SHE DID IT). I had another lady who wanted to make her cultural dish of bakes and cod fish cakes (YES WE MADE IT HAPPEN). We had a male resident that lived on the streets most of his life, he liked to hang out with his friends at the pub (WE ALSO MADE IT POSSIBLE), the CQC at that time formally known as CSCI came and done an un-announced inspection and we were rated GOOD!! What a success for my first care home management role! We celebrated not just with staff but with residents as it was what they said that made the difference. We were only there in their home and privileged enough to be caring for some of the most knowledgeable and intelligent persons of our generation.
As a team, we celebrated birthdays together (again, staff, residents and relatives). We shared our lives (when we got married, engaged, when our children met a milestone), staff would bring photos and talk to residents, our life stories were their life stories and their life stories were ours…We lived as a family.
The distance of travel from East London (from where I lived) to South West London was taking its toll and after 4 years managing a lovely 16 bedded residential care home, I wanted to move closer to home. I moved on to managing larger and larger residential services then larger and larger nursing homes, where I have stayed managing nursing homes as a non-nurse registered manager. The closeness, intimacy and love for my job I had when I started was slowly fading until one day I realised that my role was now a more strategic role to support the actual managers (e.g. Unit Managers and Deputy and Clinical Lead). It meant making sure each unit within the home had the same level of intimacy and was not afraid to challenge CQC inspectorates or Social Workers or CCG / Local Authority when they are not speaking from a point-of-view of the residents and wanting to impose their own views and not understand how the residents want their home to be.
My path hasn't yet finished but I am loving Health & Social Care and daily I look for new ways and new opportunities to excel. My current Nursing home is 117 beds and I was able to move it from Requires Improvement to GOOD now I would love to move it to OUTSTANDING. I know that Sky's the limit!