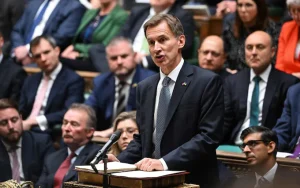 We were looking for two things from the Spring Budget on Wednesday – support for social care to address the workforce crisis and a plan to fix the childcare affordability crisis.  
The Chancellor managed to answer the strong calls from charities like Women's Budget Group and Pregnant Then Screwed to address the gaps in childcare provision.  
The early years sector faces similar challenges to social care – it is a public service but many providers are independent of the state. The workforce is woefully underpaid. Demand for services is outstripping supply. Rising costs and workforce issues are threatening quality of care.  
This is the same story we hear every day in social care. 
Budget 2023 made some positive steps to address these problems for childcare providers. A £1200 start-up grant for childminders who register with an agency. The Chancellor spoke about an average 30% uplift to the hourly rate paid to providers so they can afford to deliver the hours promised by government. These measures are the right first steps for childcare, and you can hear the sighs of relief from both parents and childcare providers. 
The government managed to find a significant amount to invest in the childcare sector, so we're asking nicely, please can you do the same for social care?  
We cannot afford to ignore the crisis that is costing lives of people who draw on social care. Record-breaking staff vacancies, avoidable deaths, closure of services and rock bottom employee wellbeing. The UK economy might be on the "right track", but who is really paying the price? 
We have recently trialled a New Starter Grant with one of our Local Authority partners, supporting care workers who are new to the sector and living or working in the Local Authority area with grants up to £750. This has been very successful and we hope to access further funding to scale up the scheme and encourage more people to join the social care workforce. 
Care workers have no choice but to leave the jobs they love for roles in Starbucks and Aldi because the pay and working conditions are better. The government must act now to convince them to stay in the sector. If it can be done for childcare, it must be done for social care. 
Karolina Gerlich, CEO The Care Workers' Charity