CWC Cycle Challenge raises £24k
Credit: Carehome.co.uk
A woman who agreed to cycle 75 miles to raise money for care workers in need has admitted the scale of The Care Workers Charity challenge shocked her and was even greater than giving birth.
Shelley Hickey, governance manager at Care UK
The challenge, open to anyone in the care sector, involved completing a 75-mile cycle ride from Rugby to Oxford to raise money for The Care Workers Charity (CWC); a charity set up to help care workers in crisis.
Twenty-eight willing cyclists got on their bikes on 28 September but only 23 made it past the finish line. Featured in a video created by the charity, Shelley Hickey, governance manager at Care UK, said:
"This is the hardest thing I've ever done. This is harder than childbirth. And it was harder than the London Marathon. Honestly it really was. And it might have had something to do with the fact that I'd done it on a mountain bike with two flat tyres by the end. It was a killer."
She said the camaraderie in the group, with cyclists encouraging each other not to give up helped her finish. "I wouldn't have got through if it hadn't been for the other guys."
Although the goal was to reach 75 miles, the group took a wrong turn early on and ended up cycling just over 80 miles. A major crash suffered by one cyclist resulted in a wrecked bike which forced him to abandon the race.
Andrew Bennett from carehome.co.uk with Alex Ramamurthy, chief executive of CWC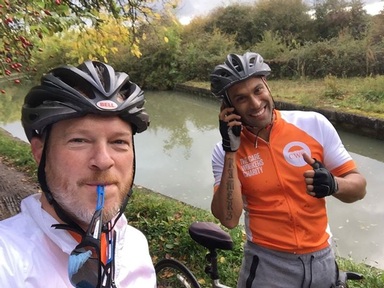 Andrew Bennett, marketing manager at carehome.co.uk is used to cycling to and from his home in Woolton Hill to work in Hungerford every morning. But after almost seven hours on the saddle, 3,000 calories burned, and far too many swear words, he said: "The hardest thing was the sheer number of miles.
"The most I'd ever ridden is 80 miles. The last 10 miles were probably the hardest.

"One particular hill was tough going. A few people had dropped out. I knew it was the last hill, so that kept me going."
Mr Bennett, who personally raised £840 himself through sponsorship, added "I might not be the best climber but I've got a good engine. I've got stamina."
While some cyclists fell off their bikes and others got lost a few times, all were relieved to stop for refreshments at five care homes along the route. The cyclists began peddling at Anya Court Care Home. Stops were taken at Arden House Care Home, Scholars Mews Care Home, Newland House, with the finish line at Cumnor Hill House.
Care home residents also had a chance to get active on the day, as the care homes along the route had a static bike in reception so that residents, relatives and staff can try to match the 75 miles without stepping outside.
There are around two million care workers in the UK caring for some of the most vulnerable people in society who may live in their own homes or a care home.
The charity helps current, former and retired care workers in times of need. Help is offered in the form of hardship grants as well as online information and advice.
The cyclists collectively raised £24,100 to finance CWC hardship grants to support past and present care workers. Berkley Care Group donated £12,000 to the charity, when the cyclists finished the CWC challenge.
" Fellow cyclist Alex Ramamurthy, the chief executive of CWC, said: "It's been a great challenge and it's been really good to get everyone together for this shared cause. "