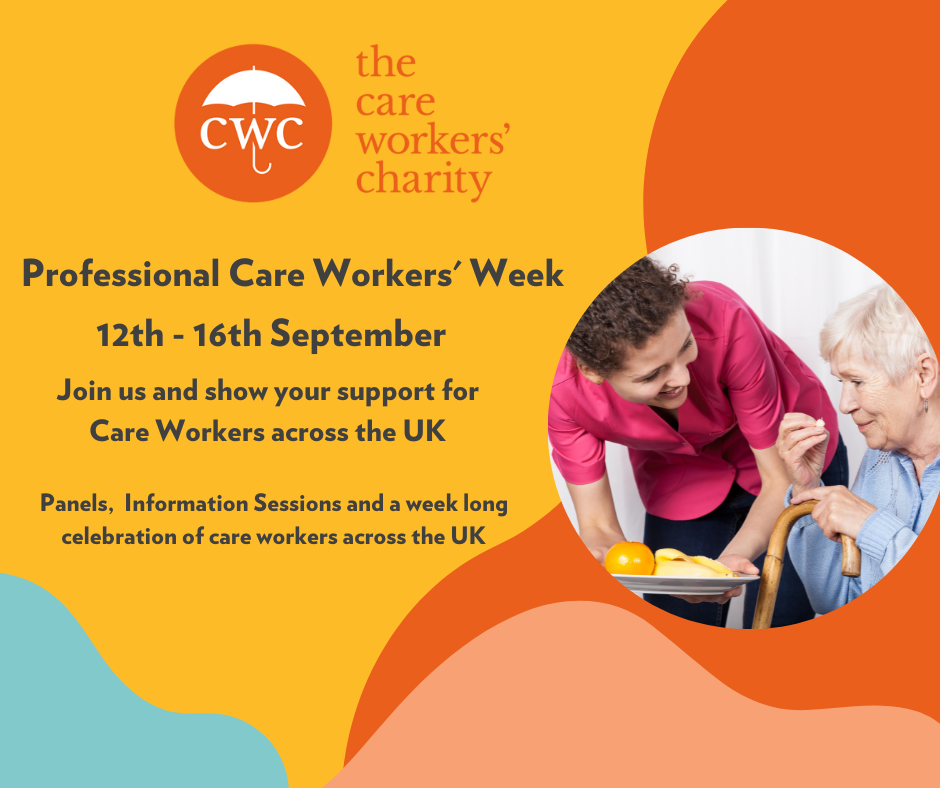 PCWW 2022: A week for celebrating care workers
Professional Care Workers' Week is back for 2022! The Care Workers Charity is proud to host this event for the fifth year running.
What is Professional Care Worker's Week?
It is a celebration of care workers and the essential work they do, created to promote awareness and raise the profile of care workers in the UK. From 12th – 16th September we will be hosting a programme of panels and information sessions which will be delivered by care workers and care managers alongside some of the biggest names in Adult Social Care. To keep the event as accessible as possible all the talks and panels will be virtual, so attendees can join from anywhere – and it's completely free!
We encourage everyone inside and outside the sector to get involved either by attending a talk, raising money or by hosting your own events to celebrate your colleagues.
Why is it called "Professional" Care Worker's Week?
Care is a highly skilled profession, but on the whole care workers do not get the advantages of being seen as professionals. The fragmented system of adult social care means that care work is more often associated with low pay, inconsistent training, agency workers and high turnover. The current workforce crisis, with vacancies at 165,000 on any given day, means we desperately need this to change.
Professionalisation means recognising the diverse skillset that people bring to the role and the amount of responsibility they take on. It's about more than a qualification or certificate – it should also come with appropriate remuneration above the Real Living Wage, ample opportunities to develop and progress, easy movement between providers and importantly, recognition of their immense value to society.
For people who draw on care and support, professionalisation means higher levels of trust and knowing what to do if the relationship isn't working. It means safety, accountability and transparency.
For us, Professional Care Workers' Week is an opportunity to raise the profile of care workers in the UK and showcase the fantastic work they do, while providing opportunities for learning and sharing best practice.
What happens during Professional Care Workers' Week?
Over the last five years Professional Care Workers' Week has been a fantastic focal point for our colleagues throughout the social care sector to come together and discuss the key challenges faced, and to take stock of the incredible work of the workforce – looking at the ways we can best support them to maximise quality of care given to those who use the sectors services.
This year, Professional Care Workers' Week will shine a light on the work happening in the social care sector; exploring some of the issues faced by the workforce, as well as those faced by the sector as a whole. Collaboration is at the heart of PCWW, which provides a platform for people to share best practice, experiences and to have discussions about topics such as the wellbeing of care workers, skills of the workforce, and cost of living crisis and ways to support care workers.
Alongside chats, panels and best practice sharing Professional Care Workers' Week is primarily a celebration. A celebration of care workers across the UK who continue to support those who draw on care every day, rain or shine, global pandemic or not.
We are asking Care Providers to use this week to show appreciation for their teams by giving little tokens of thanks such as cards, cakes, parties, certificates or any other way of thanking them. If you'd like to do something in your own workplace, you can get more ideas by downloading our Information Pack.
We'd love to see what you all get up to so please remember to tag us on social media and use the hashtag #PCWW22.
You can view the full programme by following this link where you can also book your free tickets for any of the events