Reducing The Cost of Caring: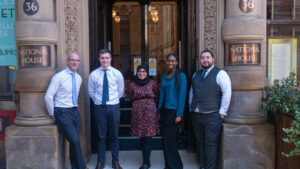 The budget problem
Balancing budgets to provide the best care for service users, within tight financial limits, has never been easy. Even before a global pandemic, with its effects on recruitment demands, additional equipment and new working practices.
Energy costs are a large part of any care business' costs. 24 hour heating, lighting, specialist medical equipment, the demands of on-site kitchens or laundry. These are unavoidable outgoings, but the size of that expenditure has recently exceeded any forecasted inflation, leaving many managers and owners wondering how they will continue to care for their residents. As recently reported by the Guardian
What steps can be taken to reduce these costs? Some measures which might not have been a priority previously, could now be much more worthwhile and repay their investment far sooner.
Keep the heat
Insulation and double glazing, particularly for older buildings, will keep more of the heat generated from escaping. This may seem obvious, but many care locations have not been upgraded to accommodate energy saving improvements due to the low return on investment. With the current energy rates soaring, the savings from these improvements could now be increasingly beneficial.
Caring for vulnerable residents means choices which might work in your own house, like lowering the temperature and wearing a jumper, are simply not possible for a care environment. There will be many reputable contractors in your area, so don't forget to shop around when weighing up the costs. Don't be afraid either, to haggle. With various grants available to assist, these companies have some wiggle room in their pricing structure to beat competitors' quotes. Maybe there is even more negotiation room if you can arrange a story with local news outlets about the contractor ensuring your residents are kept warm? It never hurts to be creative and to ask the question.
Generate your own
Solar power generation has been growing in the UK for decades. Numerous providers are competing to get you kitted out with panels which, despite some misconceptions, only need light and not heat, so do give benefits even in Winter. Much like insulation, this route may have been investigated previously and discounted.
A good place to start is the Ofgem to get an idea of the sort of savings which could be possible at your property, as well as information on grants.
Recovering funds from previous energy bills
One step without up-front investment required, is reclaiming any unfair profits from your previous energy contracts. Matthew Perentidi-James, Senior Claims Advisor at FDM Solicitors explains:
"70% of small to medium businesses, such as care homes, used a broker or comparison service to arrange their energy contracts. Getting the best deal on their energy rates while concentrating on delivering their service. In many cases however, those brokers didn't explain their fees. Leaving organisations unknowingly having as much as 30% added to every single bill for the broker's commission.
"Many businesses are taking action to reclaim unfair profits and commissions, which could add up to 50% or more of their energy costs for the last 10 years. Having a care work background, it is very important to me that the chance to recover those funds isn't just offered to manufacturers and other high energy businesses we work with, but also to care providers who look after some of our most vulnerable.
"I am delighted that FDM Solicitors' experienced business energy claims department, in partnership with the The Care Workers' Charity, are offering our no win no fee service to the care sector. Any business in or related to the care sector, who has used the services of an energy broker in the last 10 years, can check their eligibility to claim for free. We guide you every step of the way, handling all the complexities, leaving you free to focus on caring for your residents."
You can check your eligibility to claim or for more information, arrange a callback and a senior business advisor will answer any questions about the process by clicking here
Relief scheme assistance
If your service is experiencing difficulties, visit gov.uk for advice and relief scheme guidance. Regional Councils also have a range of schemes to assist struggling businesses, so check their website for information or search terms such as 'business rates relief [your area]'.
Reach out
As organisations that care professionally, it can be easy to forget that sometimes we too need help to continue doing the best for our service users. Make use of the above resources if you can, or ask groups such as The Care Workers' Charity, who have the knowledge and experience to support you.