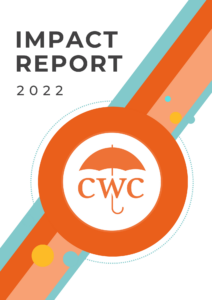 Celebrating Our Impact and Looking Forward: The Care Workers' Charity 2022 Impact Report
We are thrilled to share our 2022 Impact Report, a testament to the amazing support of our generous community. Within these pages, you will discover the real difference your contributions have made in the lives of care workers. Encompassing crucial financial support and vital assistance for mental wellbeing, professional development, and our dedicated advocacy and campaigning efforts. 
Financial and Mental Wellbeing Support 
During the cost-of-living crisis our grants have been a lifeline to many, ensuring that care workers can weather financial storms and continue their vital work. In 2022, we extended our reach through strategic partnerships with local authorities and care providers, and awarded over £1 million in grants, an impressive 74% increase compared to 2021. They have been a lifeline for care workers, supporting them with everything from daily living costs to white goods and transportation. 
In addition to the financial support provided 94 care workers were able to access free counselling sessions and 116 completed the Mental Health First Aiders (MHFA) Training Programme. This innovative initiative helps care workers to support their colleagues' well-being and provides them with a nationally accredited professional development qualification. 
Advocacy and Policy Change 
Beyond financial aid and well-being support, The Care Workers' Charity is committed to advocating for the rights and recognition of care workers. In the 2022 Impact Report, we delve into our policy and campaigning efforts. From monthly workforce advisory meetings with the Department of Health and Social Care to collaborating with Care Planner on a nationwide survey we aim to amplify the voices of care workers in policy and public debates.   
Professional Care Workers Week  
We were proud to host the 5th Professional Care Workers' Week bringing together care workers and other experts from the care sector to discuss diversity in the workplace, care workers career paths and why it's worth investing in care workers' wellbeing.  
Fundraising Triumphs and Community Spirit 
We want to extend our heartfelt thanks to our incredible supporters who have organised and taken part in fundraising events for us. These events have ranged from summer fetes and bike rides to the grandeur of the Care Sector Ball, which raised a staggering £200,000! It's these collective efforts that allow us to continue our vital work, and we are deeply grateful for your unwavering dedication. 
Looking Ahead 
As we celebrate our past achievements, we look to the future with a commitment to addressing ongoing challenges in the care sector, such as the cost-of-living crisis and workforce shortages. The Care Workers' Charity is dedicated to leading positive change, aiming to ensure fair wages, professionalisation, and recognition for care workers, ultimately improving their lives and the lives of those they care for. 
Your support fuels our efforts, and we are immensely grateful for your commitment to The Care Worker's Charity. If you're interested in connecting with us, please don't hesitate to reach out. Your ideas, enthusiasm, and support are always welcome. 
Thank you for being a part of our journey, and here's to a future where care workers are valued, supported, and celebrated.