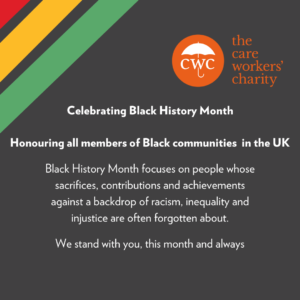 Black History Month
The Care Workers' Charity recognises and celebrates Black History Month but recognises that the BAME community are not only Black, Asian or minority groups during the month of October but every day.
The number of people working in adult social care was estimated at 1.54m as at 2020/21 – it is estimated that 18% of them are from BAME communities.
Although in an ideal world it should not make a difference what ethnicity carers (or in fact anyone) are, sadly it does make a difference and by not mentioning this we are in fact doing them an injustice.
Black, Asian and Ethnic minority carers face many inequalities such as pay gaps, lack of opportunity for promotion and facing disciplinary action more often than their white colleagues. Black workers are also disproportionately represented in insecure, low-paid work on casual or zero hours contracts.
UNISON's Equality Survey 2020 on Covid-19 reported that 42% of Black respondents were still working in their usual place of work, despite the work from home, if possible, advice issued by the government at the time. Of the 32.9% of Black members who felt the employer was not taking adequate steps to ensure their safety in the workplace, 59% noted the lack of, or inadequate PPE provision. Members reported feeling unable to raise concerns due to the fear of job loss or a reduction of hours meaning a drop in income.
Instead of showing "performative allyship" The Care workers' Charity have added to their strategy plan to become more aware of BAME issues in order to better support and understand.
Reni Eddo-Lodge Long FRSL – a British journalist and author, whose writing primarily focuses on feminism and exposing structural racism has written a wonderful book called "Why I'm no longer talking about to White people about Race" which is the essential handbook for anyone who wants to understand race relations in Britain today. 
The Care Workers' charity staff have committed to reading and learning from this publication as part of their strategy plan for 2022. (we are also adding Angela Siani's – Inferior to our team reading list to give us more awareness of gender stereotypes and the issues women face in the world) 
https://renieddolodge.co.uk/why-im-no-longer-talking-to-white-people-about-race/
https://angelasaini.co.uk/inferior