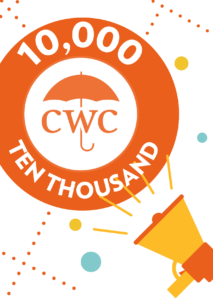 The Care Workers' Charity (CWC), a leading organisation dedicated to supporting care workers across the UK, is proud to announce that it has surpassed a remarkable milestone by providing over 10,000 grants, cumulatively worth over £5.6 million, since its inception in 2009. This achievement highlights the incredible commitment of The CWC to improving the lives of those who tirelessly care for others. 
Since its establishment, The Care Workers' Charity has been at the forefront of supporting care workers in their times of need. These 10,000 grants represent a significant contribution to the lives of care workers, offering crucial emotional and financial assistance during times of personal hardships, enabling them to better cope with unexpected expenses, such as housing costs, funerals, car repairs and other essential needs, as well as paying for therapy and mental health first aider training. 
Karolina Gerlich, CEO of The Care Workers' Charity, stated, "Reaching this milestone of 10,000 grants is a testament to the collective efforts of our team and the support we have received from individuals, organisations, and businesses. We are immensely proud of the impact these grants have had on the lives of care workers, providing them with a lifeline during challenging times. However, we must remember that whilst the ability to help so many people is something to celebrate, the fact that they need help is not. We have much work ahead of us to improve the working conditions of care workers. We will continue calling on the government to reform social care and vastly improve funding to the sector, and finally recognise care workers as skilled professionals that hugely contribute to our society."  
The CWC reports that the demand for crisis grants has been growing at an alarming rate since 2022. 1 in 5 care workers were living in poverty between 2017 – 2020, but now the cost-of-living crisis and looming recession threatens to plunge even more care workers into its depths. The mental health of many care workers is also under significant strain. However, despite these challenges, the Care Workers' Charity remains steadfast in its commitment to improving the lives of care workers and providing them with the support they need.  
 Individuals and organisations interested in contributing to The CWC's mission can visit their Just Giving page at https://www.justgiving.com/campaign/careworkerscharity or find out more on their website at www.thecareworkerscharity.org.uk. Donations of any amount make a significant difference and help enhance the well-being of care workers nationwide.