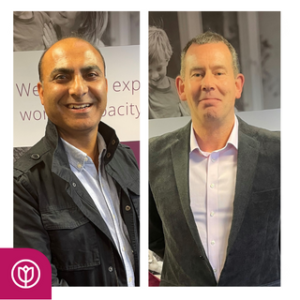 Home Instead has welcomed aboard two new franchisees to join their network of over 255 franchise offices.  Families in Lowestoft and Lincoln are now able to access the exceptional quality home care from Home Instead in their local communities, helping them to feel assured that their loved ones are in safe hands.
Munish Bhardwaj, owner of Home Instead Lowestoft, has spent many years in various senior roles in the maritime industry, travelling across the world. During the pandemic he started thinking about what he really wanted to do and caring for others was always at the forefront of his mind.
This desire to care for others led him to Home Instead and the opportunity provided for him to set up his own business. The shared ethos and the belief in everything Home Instead do, assured him that now was the right time.
Munish explains, "I loved working across the world with my career, but my heart has always been in caring and my local community. I have a huge respect for older people, they deserve only the very best in their later years."
Nick Moran has also recently launched his new business in Lincoln. He was inspired by his personal experience trying to find care for his mother. He is keen to get people talking to their ageing parents about their care, before they find themselves in a crisis situation, not knowing where to turn for support.
Commenting on his new venture, Nick says: "I know the feeling. Your parents aren't as fit as they once were and they need some support, but we don't want to talk about it.
"Home care is becoming increasingly important as we age, more and more people want to remain living independently in their own homes for as long as possible. I'm so proud to know that we are able to provide real peace of mind to so many families and their loved ones."
Home Instead is an award-winning franchise and has been providing home care for ageing adults across the UK since 2005. They continue to be the household name for home care, building strong relationships with the wider healthcare sector and being a forward-facing company that people aspire to work for, work with or recommend. It's the passion, shared drive and commitment of everyone at Home Instead that ensures they remain as the No.1 home care franchise company.
For more information on the Home Instead resale and new territory opportunities available across the UK, email franchise@homeinstead.co.uk or call 01925 730273.