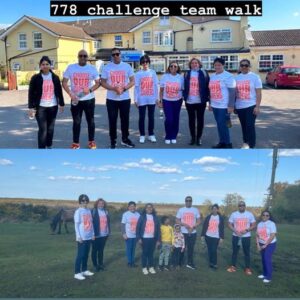 Angel/MSN Care PLC and their procurement partner – Purchasing for Good took on a mammoth challenge. They took the number of beds they have in their organisation – 389 and decided that wasn't enough so doubled it to get 778. They then set the challenge of self-propelling 778 miles as a collective team of care home workers, residents, management and colleagues.
Between 17th and 23rd April 2023 teams from across the Angel/MSN Care and Purchasing for Good – walked, cycled, wheeled wheelchairs, cross-trailered (is that even a thing?), and danced their way to not 778 miles but collectively achieved 5267 miles – 6.7 times over their original target.
The teams all had great fun and, in the process, have raised an incredible £4441.50 with donations still coming in.
If you still want to support this amazing effort. You can here: JustGiving
The Care Workers' Charity CEO Karolina Gerlich said "We are so grateful to everyone who fundraises for us and this will support many care workers in times of need. Thank you, Angel/MSN Care, and Purchasing for Good"
Angel/MSN Care said:
We have had a blast supporting the care worker's charity on our 778 challenge, we have raised £4441 and counting, our target was 778 self-propelled miles, we collectively achieved 5267 miles from residents and our colleagues, it has been such fun and created a supportive community of healthy competition, together we are all stronger