Could we be your Chosen Charity of the Year?
The Care Workers` Charity believes in a UK where no care worker faces financial hardship alone and, where their cause is championed both in and outside of the sector.
There are so many worthy causes but, as an organization who is affiliated with the Health and Social Care sector in some way either directly, or indirectly we know that you, more than most, appreciate the integral part Care Workers` play in our society.
Without their passionate nature many of our loved ones would be facing very frightening times often alone and, we feel it's our moral duty to assist our amazing Care Workers` during times of crisis.
With current staff vacancies at an all-time high (10.7%) alongside rising inflation and increasing energy costs, it will come as no surprise that the demand for support provided by charity is high.
The amount we give out in crisis grants is increasing by 55% from one month to the next, and over the last year there has been a 27% increase in care workers requesting support with daily living costs.
Your help to ensure we can provide vital support when called upon is critically important.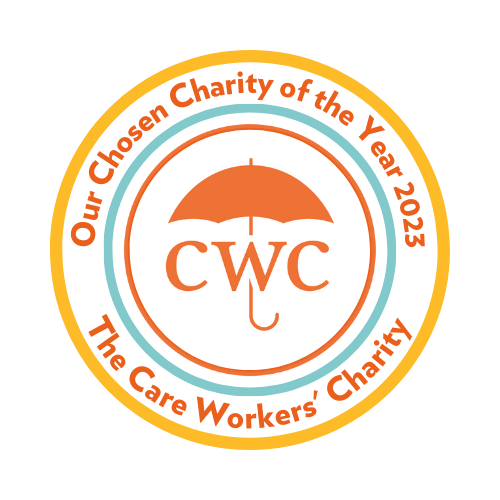 What is a Charity of The Year & what do we ask of you?
Many organizations fundraise during the year and naturally any amount always help to make a difference. However, when you harness all the activity for one charity the difference can be vast!
Harnessing the giving power of your whole business behind one charity help creates a joint endeavour which leads to teamwork and great collective sense of purpose.
From you we ask that all fundraising that is done during the year in your organization from any event be it bake sales, dress down days, hiking, running, walking an extra mile, or maybe even sponsored swear boxes all go to our charity.
Some larger organizations match fund money raised, which doubles the impact of your hard work during the year.
Instead of sending Christmas Cards make a donation, or, if any bequests from families, clients or colleagues are given throughout the year these would be sent onto our charity.
What will you receive in return?
We will give you a special Charity of the Year Logo which can be used on all your event marketing, on your SM and website.
We send your ideas of events which you can organize yourselves and, give you access to our events calendar where you can sign up to join in with our prescheduled program.
We will feature your organization in our Charity of the Year section of the website, include your photos in our newsletters and generally shout about your amazing activities across all our SM channels.
A personalized Thank You from our CEO which you can add into your marketing and use in your SM.
But more than that, you have the knowledge that all the money you donate will be going towards supporting the very people that make such a difference in our society during bleak times of need.
If you'd like to discuss options or have a chat please email info@thecwc.org.uk